2001 Summer Teacher Institute
The New Mexico High School Supercomputing Challenge, with a great 11-year track record, is partnering with NASA-AMES and Tennessee State University to have a most exciting STI (Summer Teacher Institute) at New Mexico Tech in Socorro, the last two weeks of June 2001.
The course will be a 3 credit graduate course. Topics will include: Computational Science, Mathematical Modeling, Project Management Tools, Collaborative Tools, Technical Writing, Web-Based Research, Programming, Data Analysis, your own Supercomputing Project, and a general overview of the Supercomputing Challenge program.
All expenses will be paid including housing, food allowance, expense stipend, three credit hour graduate class, software and books.
---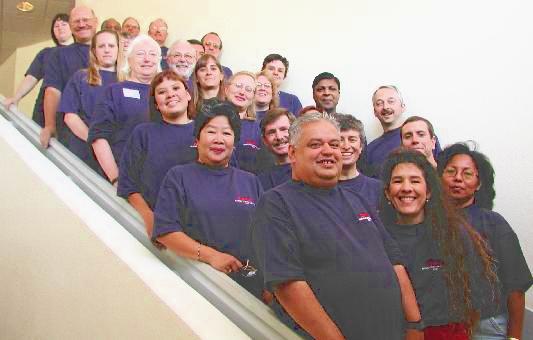 The Summer Teacher Institute class picture, taken in the stairwell of Speare Hall on the New Mexico Tech campus in Socorro, NM on June 21, 2001.
State Map showing where we are all from.
Inspiration Download
WS_FTP Download
New Mexico Media Literacy Project
STRATEGIES FOR IMPLEMENTING THE NEW GRADE 10 CURRICULUM FOR COMPUTER SCIENCE AND COMPUTER ENGINEERING
Gina Fisk's effective presentations presentation.